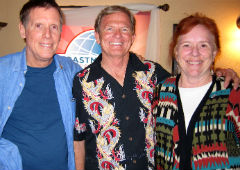 Today marked the beginning of a new Toastmasters year, which annually runs from July 1st to June 30th. This is the day that Toastmasters clubs around the world transition from the leaders of the past year to the new club leaders for the coming year.
For the Renaissance Speakers, this occasion was celebrated with formal acknowledgments of members' past support; installation of the new club President and Executive Council; presentations from the outgoing and incoming club Presidents; and especially lots of laughter; fueled by a brunch feast for all.
The event was held at the home of Richard and Susan Stewart. Richard co-founded the Renaissance Speakers, along with Roberta Perry, in 1989. Today, Richard was inducted as the President for the new year. This is not only his second term as President of the Renaissance Speakers, Richard's first term as President had the notable distinction of being the very first year of the club, starting in 1989.
Roberta Perry was the Master-of-Ceremonies for the "official" part of today's get-together. However, the event was more of a sustained riot of joking, entertainment and laughter.
Regardless, the past officers managed to be duly acknowledged for their service to the club, awards were presented to the top producers for the 2011-2012 Toastmasters year, and the new President and Executive Council for 2012-2013 were formally installed.
Jo Lauricella delivered an address as the outgoing club President and Richard Stewart offered some encouraging words for his upcoming term.
For his keynote presentation, George Alger delivered a roast of Richard Stewart, which was like throwing jocular kerosene on a fire of laughter as the audience erupted into a raucous melee of mirth regarding the new President, who is one of the most beloved members of the club.
Outgoing Renaissance Speakers Executive Council:
July 1, 2011 – June 30, 2012
President: Jo Lauricella
VP Education: Annette McCollough
VP Production: Serena McCollough
VP Public Relations: George Alger
VP Membership: Willard Michlin
Secretary: Bobbi Wood
Treasurer: Bill Moon
Sargeant-at-Arms: Richard Stewart
Incoming Renaissance Speakers Executive Council:
July 1, 2012 – June 30, 2013
President: Richard Stewart
VP Education: John Taussig
VP Production: Bobbi Wood
VP Public Relations: Fredo Moreno
VP Membership: Lee Cambigue
Secretary: Celina Pearson
Treasurer: Naomi Conners
Sargeant-at-Arms: Roberta Perry
Special thanks to Roberta Perry, Susan Stewart, Bobbi Wood and Naomi Conners for their organization of the event which marked another delightful annual celebration for the club.