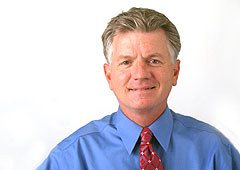 How much has changed in your world since you became a Renaissance Speaker?
Back in 1995 and 1996 I remember giving a few speeches about a newfangled thing called "The Internet." In one presentation, I described with some detail a new way to send messages called "electronic mail."
It seems remarkable in retrospect, that anyone would require a description of something as common as email. But, at the time, the vast majority of the population were not using email yet and there were very few of us in the club who were using email. I remember Ray Korns and I emailing back and forth trying to determine if anyone would ever be able to bring in any guests to the club who didn't claim they were Richard Stewart's guest.
[audience laughter]
We never did figure that out!
In one of those speeches I was prophesizing that by the year 2000 most everyone would have an Internet connection in their own home. It's hard to imagine now that it was somewhat of a bold statement at the time.
I remember other things that have changed over the years.
For example, I recall knowing Naomi Conners before she became a motorcycle mamma.
[audience laughter]
Wait, that only occurred a week ago.
[audience laughter]
Well, here's an oldie but goodie:
I remember Lance Miller, when he was a young, upstart public speaker, a decade before he became the Toastmasters World Champion of Public Speaking. Actually, even back then, he was already a world champion, it just took a few contests to confirm it.
I remember being on Bill Moon's Executive Council back when he led the charge to hammer out the club's Goals, Purposes, Policies, Plans, Programs, etc. You see, the problem with a group of active Renaissance Speakers is that they each have ideas and want to communicate them. If it wasn't for Bill Moon's patient and diplomatic leadership, and especially his drive to complete that project, we'd still be having regular meetings about all that administration stuff, even today.
[audience laughter]
Heck, I remember back in those early days when everyone in the club and the District KNEW who should run for the Toastmasters International Board of Directors. It only took Roberta Perry a few more years before she took the plunge and made everyone RIGHT.
[audience laughter]
I remember when the Renaissance Speakers was a fun place to come and learn about public speaking and to socialize with a bunch of good friends. Well, I guess some things haven't changed at all!
There are two points I wish to note as a result of all these and countless more memories regarding our club's 21st birthday:
#1) There are many more days in the future for our club than there are in the past. Which means that as good as things have been, the best days for the Renaissance Speakers are in the future.
#2) We all want to help to make that future even better. To whatever degree, we all want to share the experience of the Renaissance Speakers with others and to help others to find out what's going on every Sunday morning right here in the Theatre.
Our club expansion is also one of the primary purposes of the current Renaissance Speakers administration, and specifically for our current president, Susan Stewart and our VP of Public Relation, Jo Lauricella.
Of course we are all so very busy, that there are limits on what each of us can do to contribute to the expansion of the club.
And to that effect, the Renaissance Speakers Social Media Program and attendant Social Media Workshops are ways that exceptionally busy individuals can contribute to the club's expansion. And the best news is that it does not require much time and it can even be fun and enlightening.
If you can use email, and if you can use word processing software, you already have the required technical skills. With a little training, this social media stuff can become as easy as email.
If you want to know more, I urge you to join us this afternoon for the 2nd Renaissance Speakers Social Media Workshop which I'll be presenting at 1pm, right here at Celebrity Centre.
Not only will you learn some simple things that you can do to help expand the club, but the very same tools and strategies can be used to expand your own business, career, arts activities or community service group.
In fact, today we'll be demonstrating the one skill that is the key to being successful in this Program.
You, too can help expand our club to its greatest success with Social Media!
Be there today at 1pm!