Last Sunday, November 6, 2016, Renaissance Speakers was honored to welcome to our meeting the current Toastmasters International President Mike Storkey and his lovely wife, Lesley.
A dedicated Toastmaster for almost 25 years, Mike has remained an active member of several clubs since 1990. He served as the inaugural mentor officer for his district, and continues to be committed to mentoring. He served on the Toastmasters International Board of Directors from 2010 to 2012 and has held a number of high-profile leadership positions within Toastmasters.
Mike has also attained the Distinguished Toastmaster designation (DTM)—the highest level of educational achievement in the organization.
He says, "The skills I developed in Toastmasters—from helping others, working as a team and developing a vision in order to reach a common goal—have made me better equipped to tackle leadership opportunities both in my private and professional life."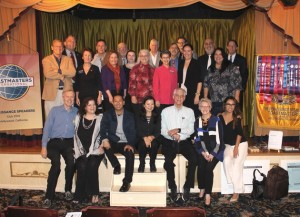 At our meeting, Mike delivered an inspiring speech about spending more time celebrating the important things in your life. It was appropriately titled, "Celebration" and quite deservedly earned the Best Speaker ribbon.
On this day, we were also pleased to welcome our District 52 Director Lance Webster, DTM, and the District Program Quality Director Kathleen Lubin, DTM.
And, by the way, the meeting Toastmaster was our Club President Serena McCullough, DTM. Her theme was "24." Why? Because she had just entered into her 24th year of age. Happy Birthday, Serena!