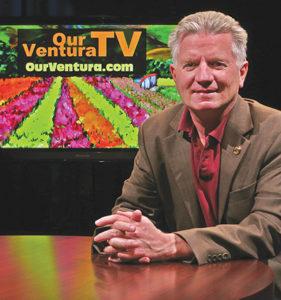 "Welcome to Our Ventura TV. Today's guest is …"
If you live just north of Los Angeles, you might hear those words on a local cable TV talk show with a theme of, "People Doing Good Things in Ventura County." However, without Toastmasters, this award-winning series would not have come to fruition. Or if it had, the title of this article would be "How I Was Tortured to Death on Television."
My first TV experience was when I appeared on a talk show as a specialized technology expert in the mid-90s. It was a catastrophe. Have you ever endeavored to suppress vomiting and control tremendous bathroom urgency while simultaneously attempting to speak with some semblance of coherence on live TV? That was when I imagined how the TV cameras aimed in my direction were pulsing an evil electromagnetic force, tormenting every cell in my body while death rays (designed to look like studio lights) concentrated their energy beams towards vaporizing my will to live.
Once I survived, I contacted Toastmasters International. My mission was to learn how to defend myself against violent cameras and death-ray lights, in addition to bettering my public communication abilities. After some time, I appeared as a guest on another local talk show and this time it went smoothly! The cameras and lights—sensing my greater confidence—maintained their distance and made no attempt to hasten my demise. In fact, I had fun.
Since then I've established a local cable TV series which features nonprofits, community advocates, artists and those with a story-including Toastmasters. The entire Toastmasters program is an apt training foundation for television. The manuals establish the fundamental skills for public communications and communicating on video. However, I think the greatest benefit is simply the regular impromptu speaking experience provided by every club around the globe.
Reprinted with permission from the Toastmaster magazine, February 2017 issue (www.toastmasters.org/magazine/magazine-issues/2017/feb2017/achievements).