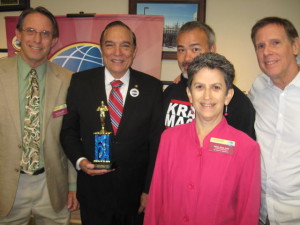 Renaissance Speakers' Ted Crisell took another step towards the crown of World Champion of Public Speaking by winning 1st Place in the Division D International Speech Contest today in Mission Hills.
In the International Speech contest, contestants present a five-to- seven-minute speech on any subject they choose. Ted delivered another sterling and impassioned rendition of his speech titled, "Just Ask, " to earn the gold trophy.
His next step in the competition is the District 52 Contest which will take place at the 2015 Spring Conference. It is scheduled for May 16 at the Embassy Suites in Glendale.
(L to R above: Jeff Harman, Ted Crisell, Gordon Limtiaco, Debbie Ellish, and John Taussig).