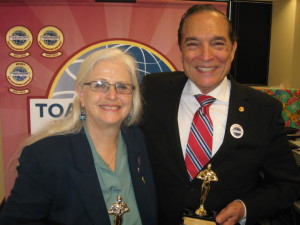 Ted Crisell won 1st place in the Area D-40 International Speech contest while Susan Stewart took the 2nd place trophy in the Table Topics Contest today in Los Angeles.
In his first attempt at entering a Toastmaster contest, Ted delivered an impassioned speech about why people should never be afraid to ask for help. He gave three powerful and personal stories that vividly illustrated this point.
In the Table Topics contest, Susan was given the question, "What makes life easier?" Susan opened her impromptu answer with the statement, "Have a purpose!" She went on to explain in detail the steps one takes to fulfill that purpose and have some fun along the way.
With the standout performances of both Ted and Susan, there's no doubt that everyone in the audience took away some useful knowledge from this contest.
Ted will next compete in the Division D contest on Saturday, April 18. (Time and location to be announced).