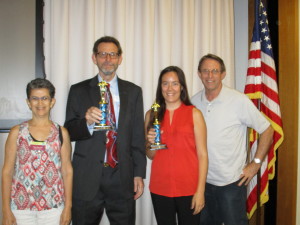 Serena McCullough and Doug Crowder won first place in their respective Division D contests last Saturday.
Serena took the top prize in the Evaluation Contest by delivering a clear, organized assessment of the Test Speaker's speech. Serena, who is also just about to earn her DTM (Distinguished Toastmaster) award, praised many of the speaker's strong points, but also provided her with astute suggestions to improve the speech.
Doug's description of his chance meeting with the real Godzilla sipping a latte at a local Starbucks earned him the best Tall Tales trophy. It's not often any of us meet a real movie star, but Doug managed to make the entire encounter totally believable in a highly exaggerated sort of way.
Both Serena and Doug will now compete at the next (and final) level: The District 52 Fall Conference scheduled for Friday night, November 20, 2015, at the Castaway Restaurant in Burbank.
(Photo: L to R: VP Education Debbie Ellish, Doug Crowder, Serena McCullough, President Jeff Harman)