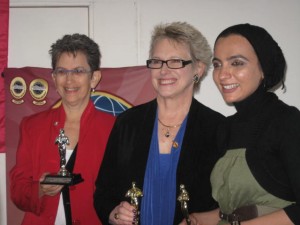 Club President Roberta Perry won 1st place in the Area C-34 Table Topics Contest while Sarah Khan earned the top prize in the International Speech Contest which took place last Saturday (03/29/2014) in Burbank.
Roberta's delivered an impassioned 90-second speech about why laws dealing with suppressing communication are the types of edicts she'd most like to change. She went on to explain how Toastmasters International is putting that desire into action all over the world. Club membership is soaring in countries where free speech has not been fully realized.
Sarah moved the audience with the wonderful story about her Papa's teaching her an important life lesson. The speech was entitled, "A Cup of Tea", and judging by the crowd's response, well-deserving of the 1st place trophy.
A third Renaissance Speaker captured the 2nd Place trophy in the Table Topics Contest. That's right, it was Debbie Ellish, representing her other club, Prepared Speakers.
The winners will next compete in the Division C contest on Saturday, April 26. (Time and location not yet available).