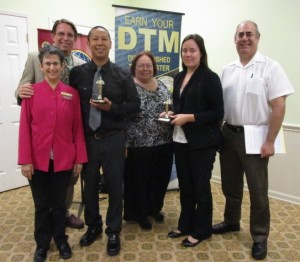 Both Joe Luu and Serena McCullough won 1st place trophies at the Area D40 contests yesterday at the Casa Italiana restaurant in Los Angeles.
In the Table Topics contest, Joe was given the question, "What three values are the most important in your life and why?" He never hesitated, describing his top trio: "Integrity, Leadership, and Time Management." Joe deftly used the last value by providing colorful examples with his usual good humor, all within the allowed 1-2 minutes.
Serena's International Speech entry was entitled, "Moments of Life." She described her journey through life in learning the relative importance of things, and the moments we should value. Serena both entertained and inspired the audience with this winning speech.
Our champions Serena and Joe will now compete at the next level: The Division D contests scheduled for Saturday morning, April 30, 2016, at the Shriners Hospital in Los Angeles. Don't miss it!
(Photo: L to R: VP Education Debbie Ellish, President Jeff Harman, Joe Luu, Annette McCullough, Serena McCullough, John Liebling)