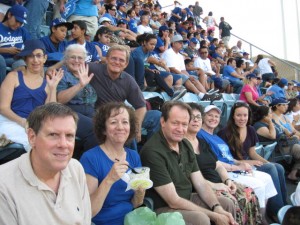 A select group of Renaissance Speakers were chosen to represent the club at last Friday's Dodger-Padres game in Los Angeles.
Because Renaissance Speakers is well known throughout the world for its excellent speech evaluations (coaching), our members had been asked by Dodger management to provide tips and recommendations that would help the ballclub continue their torrid winning streak.
An elaborate method of flashing signals to the Dodger bench, as depicted by Debbie Ellish and Susan Stewart in the upper left, was instrumental in guiding the team to yet another late-inning victory.
It is our understanding that Renaissance Speakers will be thanked appropriately by the LA Dodgers following their World Series Championship later this year. A ticker-tape parade has been mentioned.