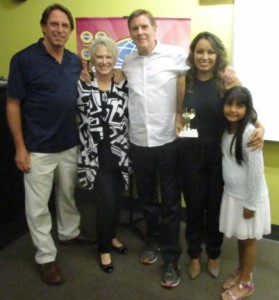 After capturing first place in last month's club contest, Luz Sanchez continued her winning ways with a victory in the Area F62 Humorous Speech contest last Saturday in Woodland Hills.
With her speech titled, "My Mom is Not as Crazy as I Thought," Luz gave us hilarious snapshots of her growing up in Mexico City and coming to the U.S., where she discovered some of her many talents. "Life has lots of twists and turns: it doesn't matter if you are a girl from a small town, a boy
from a big city or an alien from outer-space…"
Luz' next step is the Division F Contest to be held at the Woodland Hills Fire Station, 21050 Burbank Blvd., Woodland Hills, CA 91367 on Saturday, October 1, 2016 at 9:00 a.m. There, Luz will compete against four other contestants. The winner will move up to the District Finals on November 4.
(L to R: Jeff Harman, Roberta Perry, John Taussig, Luz Sanchez and Luzette Sanchez).