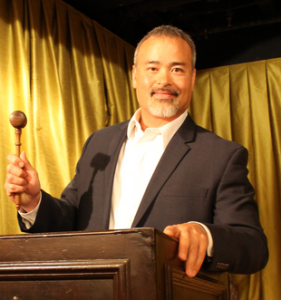 Gordon Limtiaco won the coveted "Toastmaster of the Year, 2014-2015" Award last Sunday at the Renaissance Speakers annual Awards and Installation meeting.
Many factors contributed to Gordon being selected as the outstanding Toastmaster for the past year. For one, he served as the club's Vice President Education. Gordon was responsible for encouraging as well as scheduling other members to prepare and deliver speeches and thereby earn educational awards.
The club members earned a total of 36 educational awards for the year, by far the most of any club in District 52. (There are 113 clubs in the District).
Gordon contributed to that total by his earning four educational awards, a remarkable achievement by itself. He also won numerous ribbons at the club's weekly meetings by being voted "Best Speaker" and "Best Coach." Gordon was also a volunteer Mentor to new members and helped them begin their journey on the Toastmasters program.
As the second-ranking officer in the club, Gordon successfully presided over many club meetings when the President was absent.
Gordon also showed his value outside the club by helping many other clubs get started. He was part of a team that presented so-called "Demonstration Meetings" to groups wanting to have their own clubs.
By all accounts, Gordon was a worthy recipient of the club's highest award. Congratulations Gordon!