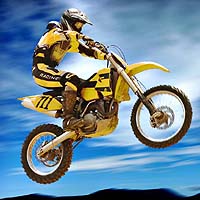 "I was born in a cross-fire hurricane. And I howled at my ma in the driving rain. But it's all right now, in fact, it's a gas! But it's all right. I'm Jumpin' Jack Flash, it's a Gas! Gas! Gas!"
How many are familiar with the Rolling Stones song, JUMPING JACK FLASH?
Well then, as each of you know, it's actually not a song about rising gasoline prices.
[laughter]
The song is not only about overcoming adversity in life, it's about coming out on the other side and having fun.
In this usage, "Gas" refers to something "exciting or entertaining," which is how I feel I've been leading my life – even if some of the excitement I hope to never encounter again.
Although Jumping Jack Flash was born in a hurricane in the driving rain, I rode my motorcycle through the same, as part of one of many cross-country motorcycle tours. The main lesson I learned, once I survived it, is that with a little more foresight, there are some adversities in life that I have created that are worth avoiding.
I'm the oldest of 5 kids – with two brothers and two sisters whom I am quite fond of.
Another way I have felt like Mr. Jumping Jack is that I've lived in a number of places. I was born in Illinois and moved to Washington DC, New England, Cleveland, Detroit, Philadelphia and upstate NY, all by the age of 18. While growing up, my family never lived anywhere longer than 4 years, as my father accepted a number of career promotions and/or went through job changes. I continued that traveling tradition since then, moving to Boston in my twenties, as well as to Florida, and for the past 20 years, several places here in California. Some of you may recall that for most of 2002, I lived in East Grinstead, England, which I had been wanting to visit for many years.
Some people define themselves by what they do in life and like everyone here, I keep myself busy.
I'm a cable TV producer, photographer, writer, President of Artists For A Better World for over a decade, and of course I've been a Toastmaster even longer.
I'm also the owner/operator of a digital advertising agency, a passionate motorcycle enthusiast, and a mischievous, fun-loving nature boy. I especially love the ocean. However, I'm inspired by mountains and deserts and all nature, in addition to the coast.
Although I'm not into Astrology, I can say that as a Pisces, I'm truly a water soul. I not only love the ocean, I love lakes, rivers, streams, creeks, little brooks and especially waterfalls of every size. I like fog and drizzle and I even like a certain amount of rain – about the amount we get here in Southern California.
I walk, run or ride my bicycle along the beach every day – usually twice a day – as I live a short walk from the Pacific.
In addition to enjoying the beach for exercise and inspiration, I find that no matter what kind of frustration or adversity I may be going through at any time, all I need to do is go for a walk along the beach and life is good again.
So, between having lived in many places, riding through a hurricane in the driving rain and generally enjoying life, I sometimes like to sing, "I'm Jumpin' Jack Flash, it's a Gas! Gas! Gas!"