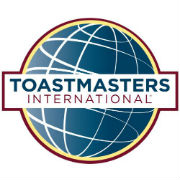 Being grammarian is truly an exercise in expanding your listening skills.
You have two basic responsibilities. The first is to introduce new words to members. The second is to comment on English language usage during the course of the meeting.
Before the Meeting:
1. Choose a "Word-of-the-Day," preferably a verb or adjective.
2. Print the word, its definition and derivation on a sheet of paper or board large enough to be easily read from the back of the audience. Many people use a large computer font and print it out. Bring this to the meeting.
3. Prepare a few sample sentences using the word.
At the Meeting:
The "Word-of-the-Day" can be clipped to the curtains or propped up on the edge of the stage facing the audience. The Secretary will provide you with a form on which you can record the members and guests who use the word-of-the-day.
When introduced, go to the front right corner of the room and say words to this effect:
"Mr./Madam Toastmaster, fellow Toastmasters, and welcome guests: My duties as Grammarian are to provide a 'Word-for-the-Day,' to listen for proper and improper use of the English language, and to record any especially interesting or artistic turns-of-phrases presented by today's speakers and meeting participants.
"Today's 'Word-of-the-Day' is _____________. (Point to the word, define it, and use it in your prepared sentences.) Later in the meeting, I will report on who used today's word, how well or poorly we used the English language, and I will share with you any unique phrases we heard today."
Throughout the meeting you should attentatively listen for:
Colorful/descriptive words
Good vocabulary
Mispronounced or misused words
Poor sentence structure
Incomplete sentences
Grammatical errors
At the end of the meeting, when called upon, go to the front right corner of the room again and state:
1. Which Toastmaster(s) or guest(s) used the "Word-of-the-Day."
2.  Report any grammatical errors, but be sure to do so with tact and without making anyone wrong.
3.  Repeat any interesting/funny/dramatic/poetic turns-of-phrase heard during the meeting. You can simply report what was said, or (if time permits) ask the audience:
"Who said: '_______?' "
for each item. This latter action is preferred as it involves the audience by encouraging them to recall the events of the meeting.