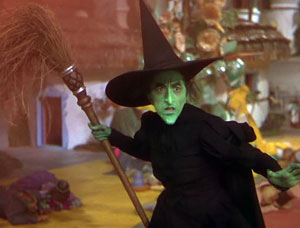 Can you dream?
Can you talk to others about your dreams?
Can you tell a group about your dreams, or better yet, inspire a group to pursue theirs?
Yikes! Not me!! No way mama! Put me in front of more than a couple of folks, and I turn into the Wicked Witch Of The West! More precisely, I turn into the puddle that the Wicked Witch Of The West melts into during The Wizard Of Oz.
At least that was the case until I joined Toastmasters, which is an international, non-profit network of "clubs" that are organized for the purpose of learning and especially practicing public speaking!
My past two years as a member of Toastmasters, and specifically, the Renaissance Speakers Toastmasters Club in Hollywood, California, has been a journey of self-discovery and dreams!
When I decided to confront my fear of speaking to groups, I checked out a local Toastmasters club that meets in a neighborhood restaurant. It was a friendly group with some very good speakers. I thought I'd join this club, but I was encouraged to visit and experience other clubs, too. (Although I know Toastmasters International does suggest this, between you and me, I think this club just didn't want to mop me off the floor when I melted in terror!)
And boy did I bump into a rowdy bunch when I wandered into a Renaissance Speakers meeting; Humba Ho, Hi Hello! I was warmly welcomed and captivated by their infectious enthusiasm. And although they meet in a fancy theatre with a beautiful stage, it was really the environment of encouragement and creativity that inspired me to join; and on top of that I laughed so much!
Well… that was two years ago, and no one ever complained about mopping me up off the floor. Now I fly like the Wicked Witch Of The West! (Actually, I'm not sure I like this comparison….)
So, what's all this have to do with "Dreams?" Nothing! I just thought that would be a good lead-in to my secret wishes of flying on a broomstick.
Actually, it's through my newfound Renaissance Speakers friends that I found my way to Europe as a member of a ten person international running team, with each of us taking turns carrying a torch, as a symbol of freedom! We ran a 2000-mile relay through eight European countries in celebration of the 50th anniversary of the United Nations' Universal Declaration of Human Rights.
Talk about a "dream" summer vacation! In city after city, we addressed crowds with our personal purposes and dreams about why were running our butts off (as well as our mouths!)
It was due to my Toastmasters training, including practicing impromptu speaking, that I was able to express myself clearly and without preparation to crowds across Europe. (Talk about thinking and speaking on one's feet! I barely had time to wipe the sweat of my forehead!)
After two months of abusing my running shoes, all the while building up my leg and vocal muscles, I returned to the United States, eager to share my adventures via a series of speeches about my European journey and dreams of worldwide human rights and religious freedom.
And would you believe this former puddle of a Wicked Witch Of The West was then hired to inspire high school seniors about their dreams? It's true! In High Schools from San Francisco to San Diego, I spoke to kids in groups as small as 35 and as large as 500. I gave talks on how their college and career choices fit into their future and dreams. (And boy-oh-boy, some of these kids sure can inspire the Wicked Witch Of The West in anyone, and I'm not talking about the puddle variety). And I was even paid!
So, if you've got dreams, and you would like to tell groups of others about them, join Toastmasters! And if you visit the Renaissance Speakers, you will share some laughs with a fun bunch who enjoy a little "Saturday Night Live" on Sunday mornings.