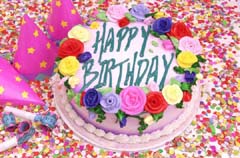 Congratulations to a Winning Club on your 21st Anniversary!!!
As Toastmasters we have an incredible opportunity to inject sanity and theta into the environment, and you are doing this in spades!!!
Thank you for being the inspiration for our fledgling club, which happens to be growing like crazy right now.
Kudos to the present and all past presidents of your dynamic club.  You are helping set the standard for the Ideal Scene, and together we can create dynamic public speakers who will effectively get their message out to a world that desperately needs stable data and sanity.
We are proud to be affiliated with you, and are taking the advice of Ralph Waldo Emerson when he said "Hitch your wagon to a star."
Congratulations and much love,
Mercedes Behm
President Renaissance Speakers Clearwater