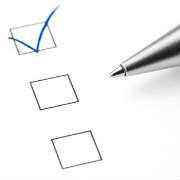 Today, Immediate Past President of the club, Roberta Perry, presided over the Renaissance Speakers' annual Election of Officers.
As part of its leadership training program for members, Toastmasters clubs throughout the world elect new club officers, as well as officers at the Division, District and International levels, prior to the beginning of its fiscal year, which runs from July 1st to June 30th.
The new club officers, who comprise the club's newest Executive Council, will begin their responsibilities on July 1st and their formal induction ceremony will be observed on July 10th, 2011.
President-Elect, Jo Lauricella, who is taking on the lead role of the club for her second time in the club's 20+ years history, remarked that "Expanding the membership of the Renaissance Speakers" will be one central purpose to her administration's service to the community. She also emphasized that the newest Executive Council will be responsible for "Continuing to engender the high standards of communication and leadership training, which has made the club exceptional."
Furthermore, Jo praised the current President, Susan Stewart and her Executive Council, for the superb job they have done forwarding their 2010-2011 theme, "Winning the Game of Life: Name It, Want It, Get It," which resulted in the Renaissance Speakers achieving the Toastmasters International President's Distinguished Award for the twelfth year in a row.
2011-2012 Renaissance Speakers Executive Council
President: Jo Lauricella
VP Education: Annette McCullough
VP Production: Serena McCullough
VP Public Relations: George Alger
VP Membership: Kathy Oliver
Secretary: Bobbie Woods
Treasurer: Bill Moon
Sargeant-at-Arms: Richard Stewart

Founded in 1989, the Renaissance Speakers is part of Toastmasters International, which is a world leader in communication and leadership development. Since 1924, millions of global individuals have become more confident speakers and leaders because of their participation in Toastmasters.